This section explains what a 3270 server is and what it does.
A 3270 server is a program or sequence of instructions that provides a bridge between Blueworx Voice Response and data that resides on a remote host computer.
If you have existing 3270 host applications that retrieve data needed by your Blueworx Voice Response applications, you can create a 3270 server to obtain this data.
Figure 1. Accessing data using a 3270 server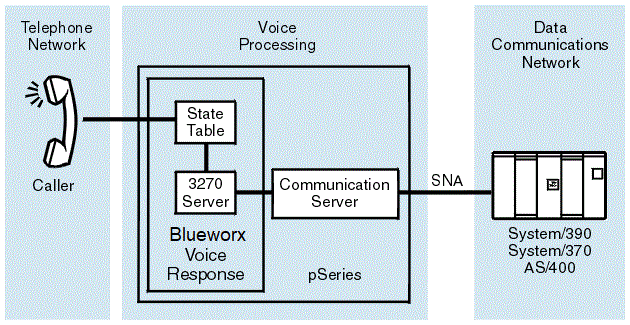 Access to remote data means that your voice applications can use this data to perform a variety of tasks, such as:
Read a file or database to retrieve information that a caller needs
Maintain or manipulate files based on a caller's request
Obtain information from a combination of sources and business applications on other host computers
Call another program to perform any predefine process
Perform calculations and return the result to the state table
Generate business statistics based on telephony activity
A 3270 server must be invoked from a state table, which controls the dialog with the caller. Figure 1 shows where a 3270 server fits in your system.